Camp Happyland is a wonderful facility belonging to the Salvation Army. It is located approximately 18 miles from the Fredericksburg Central Park area.
Directions to Camp Happyland..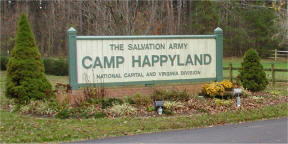 From Central Park in Fredericksburg, drive 7.5 miles west on Route 3. Turn right (North) on Route 610, Elys Ford Road. Drive 9 miles north on Route 610. Just prior to the green Richardsville sign, turn right (East) on Route 619, Richards Ferry Road. Drive 1.3 miles to Happyland Drive. You will see a large Camp Happyland sign on the right side of the road. Turn right into the Camp and proceed to the parking area. Total distance from Central Park is about 18 miles.
Camp Happyland
21457 Happyland Drive
Richardsville, VA 22736

Phone: (540) 399-1197
FAX: (540) 399-1179